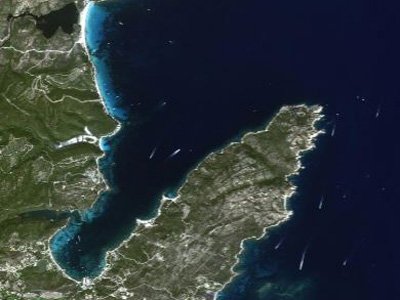 Bathymetry for United Kingdom Hydro Office
The United Kingdom Hydro graphic Office (UKHO), one of the most important hydro-graphic offices worldwide, contracted a pilot trial of satellite derived bathymetry and seabed classification for the Mediterranean Sea. It was their intention to assess the potential and quality of satellite-derived products. Two project sites were identified in the Mediterranean Sea with a total area of approximately 80 sq km. Despite that no ground control restrictions were required by the UKHO, vertical accuracies were of 10-15% of water depth and a positional accuracy of 10 m CEP 90% were achieved. Seabed classification was also successful, with four seabed types being identified: sand, debris, vegetation and mixed seafloor. Two major benefits were identified by the client, the cost effective mapping and the rapid delivery of actual bathymetry information. Based on this work, the UKHO calculated that conventional methods have 4-8 times the costs of satellite-derived products.
| | |
| --- | --- |
| Project Type: | Bathymetry and Seafloor Survey |
| Client: | UKHO |
| Keywords: | Bathymetry, Seafloor, UKHO, Mediterranean Sea |
The project consortium:
Digital Globe (satellite data provider),
EOMAP (service and production),
PROTEUS (project management).