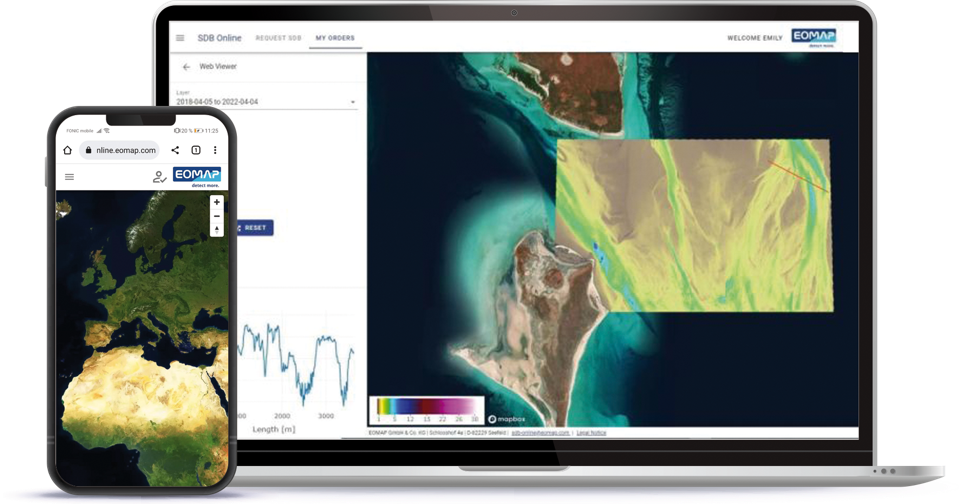 What is the technology behind SDB-Online?
Every process you trigger on SDB-Online is based on EOMAP's state-of-the-art satellite analytics. – With our patented technology we are worldwide leader in the precise modelling of sunlight's path through atmosphere and water down to the seafloor and back to the satellite sensor. Basically, this technology is the inversion of the radiation transfer model. In contrast to empirical techniques, ours is a Physics based approach. Read more about our research-based experience.
What are the main product features?
The WebApp enables you to analyse shallow waters up to 1x Secchi Disc Depth. Depending on the water clarity, this ranges from 10m in the Southern Baltic to +20m in clear waters of the Caribbean.
The cloud environment of SDB-Online allows multiple processes to run in parallel. Your benefit of these fast processing times are substantial time savings.
To even increase accuracy, you can book manual QA/QC by our experts and Seafloor classification.
Read more in the Product Sheet for PDF-download.
How valid are SDB-Online data?
The project team assessed and validated SDB-Online data by comparison with in-situ data, such as swath bathymetry, LiDAR, single-beam echosounder data, aerial ortophotos and ground-truth data. Learn more about the validation of SDB-Online in these use cases. Subsequently, this process helped to improve the SDB-Online tool continuously. Read more on the robust validation results in this peer-reviewed paper in the International Hydrographic Review. The paper also includes a table showing a detailed summary of the validation statistics.
Further information
In addition, SDB-Online has been presented at international conferences, video tutorials were provided. Here is a selection for further reading: