EOMAP part of a new project to better understand and predict the interdependencies during major emergencies
German Aerospace Center has joined with project partners to develop a mulit-riks information system for the Andean region in Chile, Ecador and Peru
Kickoff of RIESGOS international cooperation project at the DLR German Remote Sensing Data Center in Oberpfaffenhofen, Germany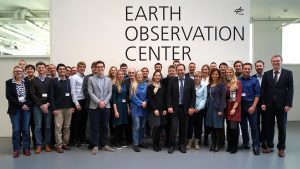 The RIESGOS project (Spanish for "risks"), an international consortium of academic research instituts and industry partners, aims to improve the information base for natural distater management to develop strategies to avoid or mitigate risks.
Web-based application services will enable decision makers and stakeholders to prepare risk analyses for the obverall situation and simulate scenarios with complex risk chains.
To learn more about the project, please refer to the German Aerospace Center press release.