Owing to the rapid increase in global shipping traffic during recent years, there is growing need for constant innovation in the field of maritime surveillance.
Shipping companies deploy modern technologies to ensure enhanced monitoring, efficiency and security of their fleet. Vessel location and navigation systems have become a primary focus.
Earth Observation contributes to maritime surveillance to help manage the actions and events that can have an impact on maritime safety and security, including for marine pollution, accident and disaster response, search and rescue as well as maritime border and fisheries control.
Space-Based Automated Route Planning
"As far as voyage planning is concerned, we are already working on optimizing the automated route calculation based on the influence of integrated Earth observation data", says Friedhelm Moggert-Kägeler, Head of Product Management at SevenCs GmbH.
SevenCs develops S-57 chart display Kernels for ECDIS, WECDIS and other maritime applications, ENC production and distribution software, and professional maritime navigation software. SevenCs is also project partner of MARSAT, a corporate network of private companies and a research institute that develops new services for the maritime industry using satellite data.
MARSAT project partners include EOMAP GmbH & Co. KG, Drift & Noise Polar Services GmbH, European Space Imaging GmbH, SevenCs GmbH, Trenz AG and the Institute of Shipping Economics and Logistics (ISL). They combine extensive experience and expertise in the field of satellite services, software development and maritime services.
"MARSAT is an ambitious project which brings together competence of specialists in satellite data provision and analysis, IT and the maritime industry. This team will lay the ground for improved decision making for shipping route optimization, offshore planning and maintenance as well as emergency events", said Dr. Knut Hartmann, Project Coordinator MARSAT, EOMAP GmbH & Co KG.
The network that started work in August 2016 will create and integrate operational services to allow the maritime industry to take advantage of the most up-to date satellite information in their daily work.
"For SevenCs, the first MARSAT year offered the opportunity to embark upon completely new activities, e.g. Satellite Derived Bathymetry, as well as working on new innovative solutions for traditional subjects of maritime navigation such as voyage planning. We succeeded in creating new navigational charts for areas with insufficient chart coverage thus enabling skin divers and skippers to securely head for areas of interest", explains Friedhelm Moggert-Kägeler.
MARSAT Workshop
A first MARSAT workshop on 21 September 2017 in Hamburg, Germany will provide a platform to discuss these challenges and solutions for the maritime industry in the digital era (Maritime 4.0) with a strong focus on remote sensing (satellite and airborne sensors), modeling services and data flows.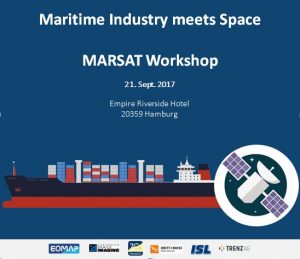 For more details on MARSAT please visit the MARSAT homepage on  www.marsat-projekt.org or email MarsatWorkshop@eomap.de.