In July 2015 EOMAP established long-term water quality monitoring services for the American branch of British multi-national consultancy company Wood Plc (formerly Amec Foster Wheeler). The areas of interest, Lake Elsinore and Canyon Lake, are located south-east of Los Angeles in Riverside County, California.
Lake Elsinore is the largest natural freshwater reservoir in southern California, fed by the San Jacinto river. The lake has suffered from the severe draught in California during recent years, with massively changing water levels and the frequent occurrence of harmful cyanobacteria blooms in late fall. A multi-million dollar project was set up to stabilise the lake ecosystem. In 2007 an aeration system was installed on the bottom of the lake to prevent fish kills.
Canyon Lake is an artificial reservoir just north-east of Lake Elsinore. Its shorelines are densely populated. The lake serves as a drinking water reservoir for about 10% of the people living in the area around both lakes. It is also fed by the San Jacinto River.
EOMAP uses combined Sentinel-2 and Landsat 7 and 8 data in order to evaluate turbidity levels, chlorophyll concentrations and the occurrence of harmful algae blooms at eight points in time during the year. The project has been extended twice by Wood Plc.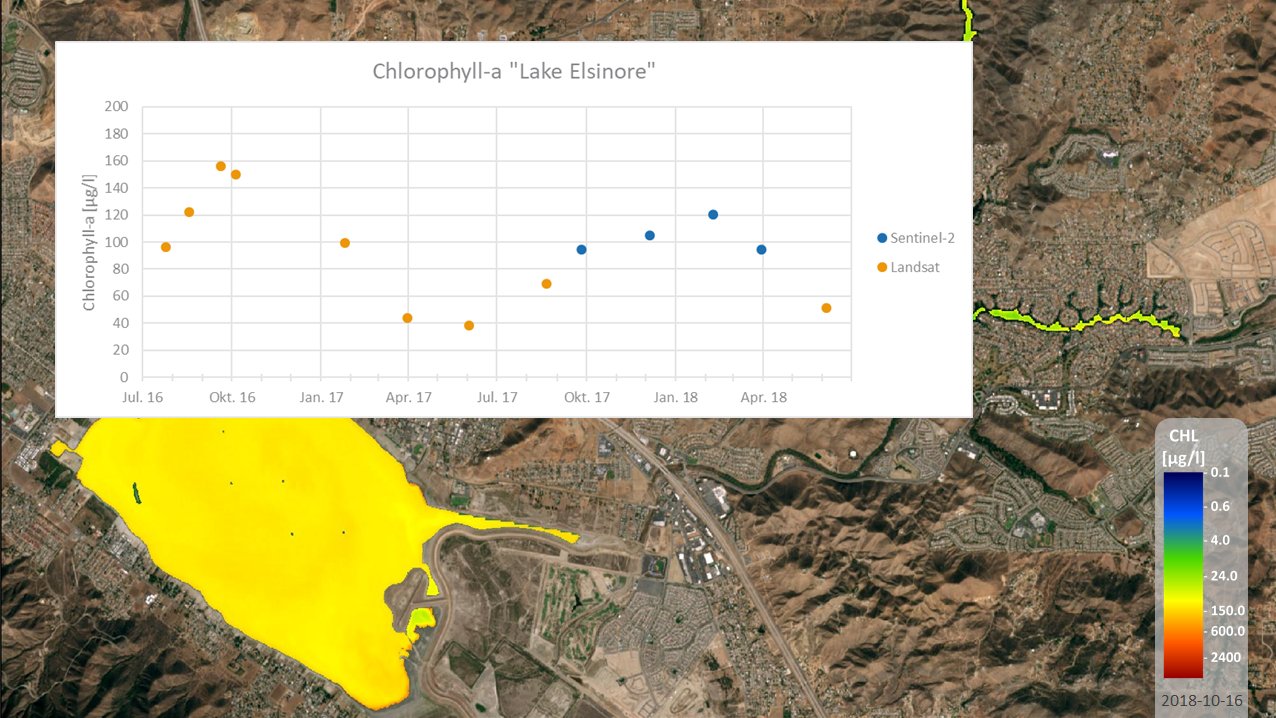 Client
Wood Plc (formerly Amec Foster Wheeler)
Project Type
Long-term Water Quality Monitoring
Keywords
Water Quality, Chlorophyll, Harmful Algae Blooms, California